NEWS
ニュース
Launching the beta version of IPFS SOUKO, a next-generation distributed data storage service 2021.04.27
NonEntropy Japan, a distributed storage company that plays an important role in the infrastructure of the Web 3.0 society, has launched the beta version of IPFS SOUKO (), which enables secure digital archiving with IPFS and Filecoin distributed storage. The beta version of IPFS SOUKO (https://ipfs-souko.nonentropy.jp/), which realizes secure digital archiving through IPFS and Filecoin distributed storage, was launched.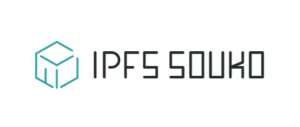 ◆Background of the development of IPFS SOUKO
Currently, there are about 50 ZB (ZB is about 1 billion times larger than GB) cloud storage services in operation worldwide. However, there is an oligopoly by a few giant companies, and we believe that this is not a desirable situation from the perspective of business continuity. Also, if the data is located in the U.S. or China, it poses a problem in terms of personal information protection.
In other words, there are currently three risks associated with data. Geopolitical risk of data, preservation risk, and tampering/leakage risk. We have developed IPFS SOUKO as a digital archive service to manage these three risks.
◆Features of IPFS SOUKO
IPFS SOUKO is a digital archive service that enables smooth uploading and downloading of data between conventional storage (including cloud) and IPFS/Filecoin distributed storage.
IPFS and Filecoin are cutting-edge technologies, and there are still very few people who are proficient in handling them. The simple UI/UX of IPFS SOUKO allows anyone to store (upload) or retrieve (download) their data to IPFS or Filecoin distributed storage.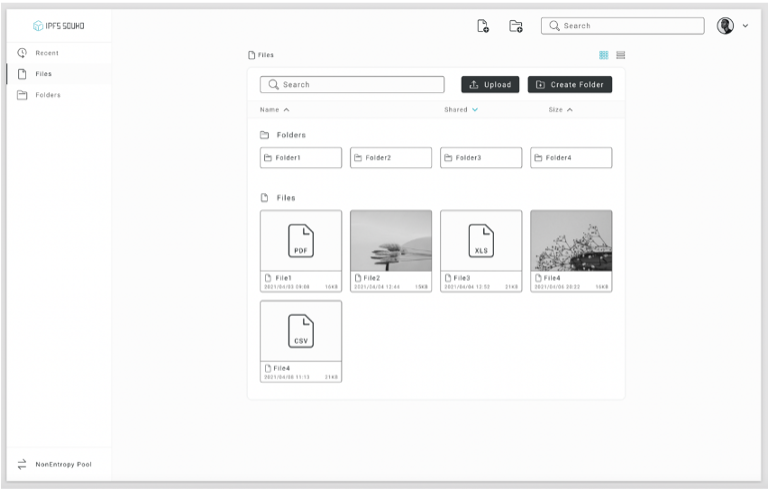 The data stored in IPFS SOUKO will be more secure with the geopolitical, preservation, tampering and leakage risks of the data managed.
In the beta launch, only free features are open to the public. For the official launch, we are considering a monthly subscription plan based on storage capacity and transaction volume. The beta version will be free, with a limit on the amount of data that can be stored per user account, and storage on the Filecoin network will be provided through a test net. Please contact us if your organization would like to try out the Filecoin mainnet storage.
◆IPFS SOUKO's Targeted Data Domain
IPFS SOUKO plans to target all kinds of data that exist in the world as the next generation of distributed storage. The first target of this service is public data, and among corporations, public relations information that is responsible for corporate business expansion.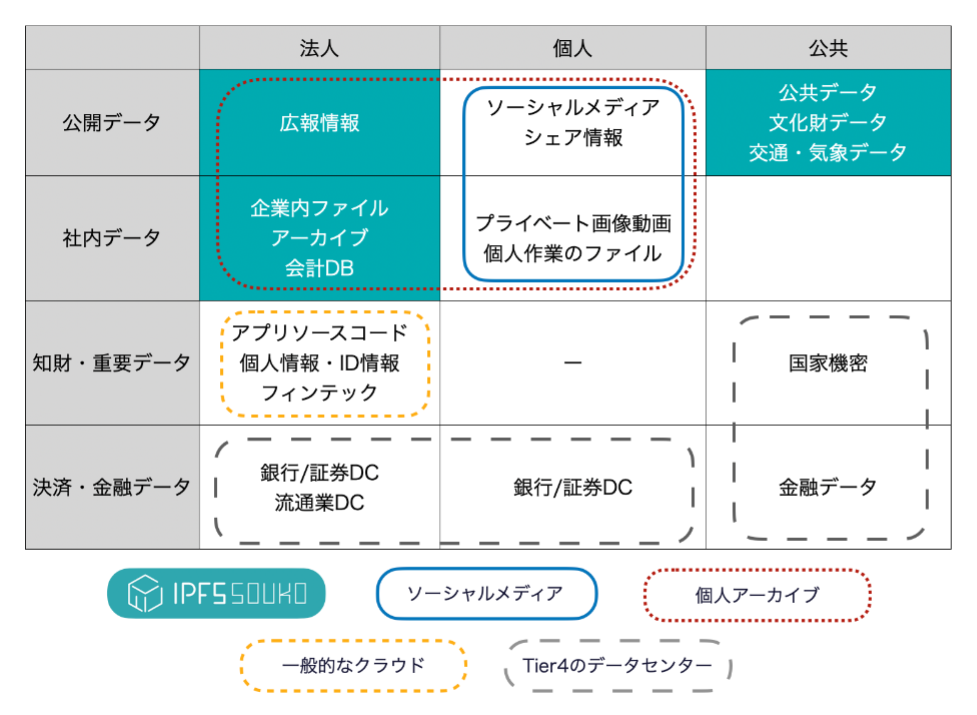 ◆Main functions of IPFS SOUKO
-Saving and retrieving data to and from IPFS distributed storage
-Saving and retrieving data to and from Filecoin distributed storage